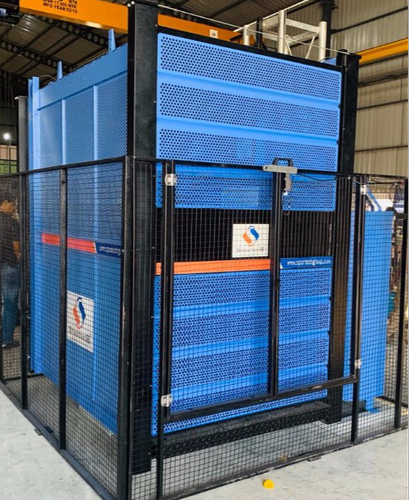 Product Specifications
12 Months

Electric

Blue

New
Product Description
Spantech Engineering Industries Pvt. Ltd. is a three years old manufacturing company that can cater to the requirement for passenger cum material lift of any client efficiently. Designed and developed to lift 1-2 ton with a safe lifting speed, this kind of completely enclosed lift is mainly used at construction sites for carrying out construction tasks. Stainless Steel is employed as a main material in the production of cabin body and other essential components. With the ability to move between different floors of a multi-storey buildings with the support of high strength beam, this lifting system features emergency stop, no free falling, one way entry, automatic stop at highest and lowest point and overload control.

Key Points:

Passenger cum material lift operates without any noise, jerk or vibration.
The lift cabin is painted in blue.
It will not operate until the gates are completely closed.
It is delivered with a warranty of 1 year.
Passenger Cum Material Lift Details:
Capacity : 1-2 ton
Usage/Application : Construction Industry
Brand : Spantech
Type : Passenger Hoist
Material : Stainless Steel
Trolley Option : With Trolley
Usage/Application : Construction Work
Get in touch with us